1-Net's Data Center adopts ABS OSPAR Guidelines to support the Financial Industry
Elevating credibility as an outsourced data center service provider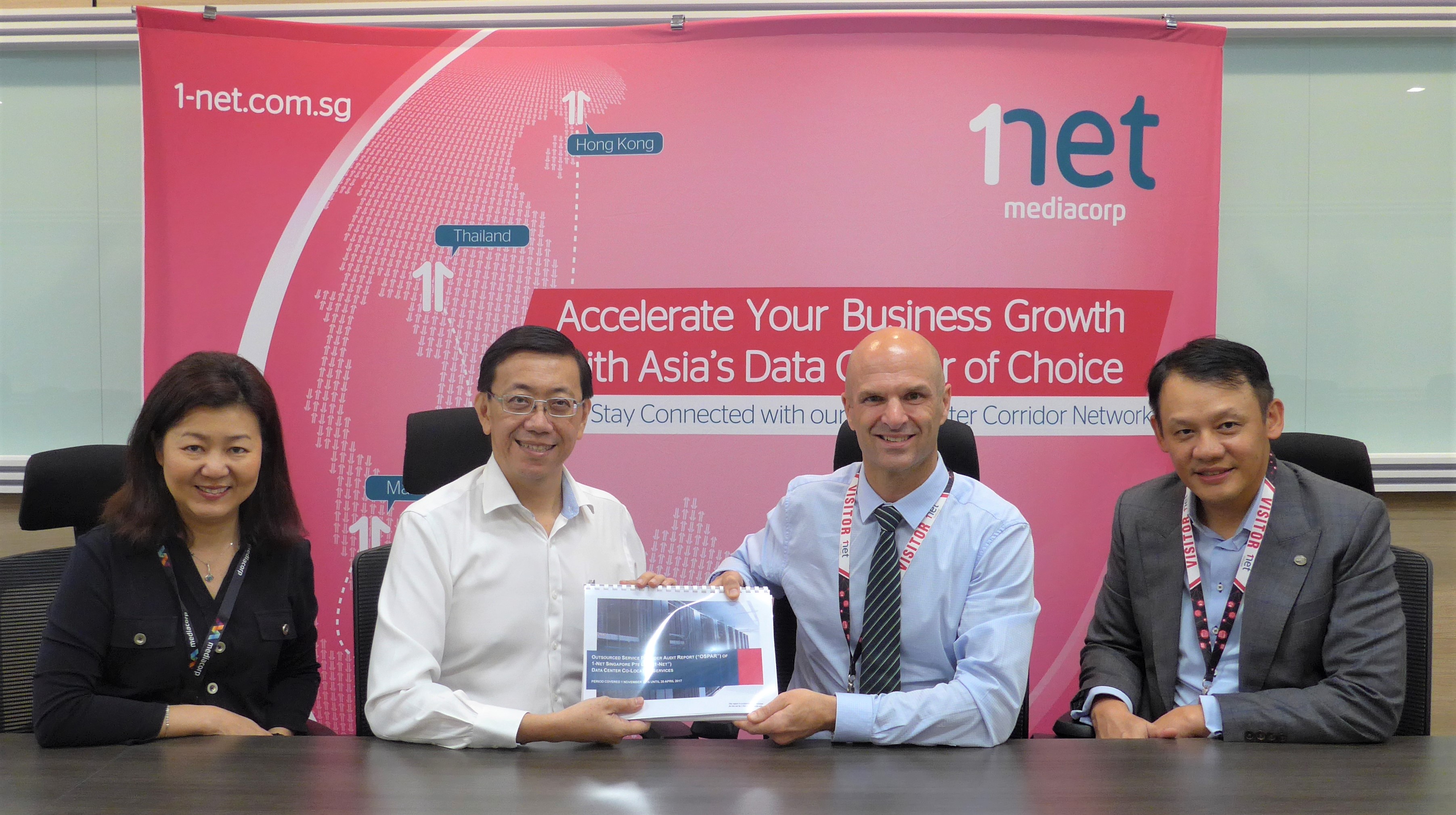 Singapore, 14 June 2017
1-Net has adopted the "Guidelines on Control Objectives and Procedures for Outsourced Service Providers" as established by The Association of Banks in Singapore (ABS) to elevate the trust to its customers as a data center service provider. 1-Net has appointed PwC Singapore, one of the approved auditors by ABS, as its independent auditor to attest the 1-Net North data center environment against the ABS guidelines of which the results have been summarized in 1-Net's first Outsourced Service Provider Audit Report (OSPAR) issued today.
Outsourcing continues to be prevalent in today's business landscape, especially for the increasing digitalized financial industry. Many financial institutions rely on outsourced service providers to perform certain, in some cases critical or material, business functions. However, many are still underestimating the complexities they are exposed to by engaging with outsourced service providers. Although companies start to look closely at the risks related to cybersecurity, organisations might have overlooked the fact that physical data security is equally, if not more, important than its logical security. Adoption of the guidelines provides 1-Net the credibility as an outsourced service provider and reassures customers  that 1-Net maintains an equivalent level of governance, rigour and processes as financial instutions are required to adhere to by the Monetary Authority of Singapore (MAS).
The loss of customer confidential data or disruptions to critical banking services may result in damage to a financial institution's reputation and might even result in regulatory breaches. Many organisations assume that the cause of most security breaches originate from professionally organised hackers, but neglect that one of the biggest threats to information security is human error and negligence, often on the part of internal stakeholders. In most cases, physical data security tend to occur more frequently and are equally as detrimental.
Mr. Goh Kim Soon, Managing Director, 1-Net Singapore said: "By adopting the ABS guidelines and undergoing this attestation, 1-Net is providing additional assurance to our financial services clients indicating that the data entrusted to us is securely stored according to the highest security standards. Outsourcing risks must be managed to safeguard the financial institution's operations and their customers. Services can be outsourced, but not their underlying risks."
Mr. Goh added: "Financial institutions have the responsibility of verifying the credibility of the outsourced service providers they use, especially for the key business and technology functions. At the end of the day, the ultimate responsibility still lies with the financial institutions themselves and our OSPAR is instrumental in building the underlying trust between us and our financial services clients."
1-Net North Data Center is the First Tier III Constructed Facility certified by Uptime Institute in Southeast Asia. To meet high security requirement of the financial institutions, the facility has also adopted MAS's Technology Risk Management guidelines on Threat, Vulnerability Risk Assessment (TVRA) and attained Payment Card Industry Data Security Standard (PCI-DSS) compliance. Other industry accreditations for 1-Net North data center include: ISO27001 on Information Security Management System (ISMS); ISO22301 on Business Continuity Management System (BCMS) and BCA-IDA Green Mark Gold Plus for New Data Center.
Photo from left to right: Ms. Jamie Ang, Chairman of 1-Net; Mr. Goh Kim Soon, MD of 1-Net; Mr. Mark Jansen, Technology, Media and Telecommunications Industry Leader from PwC Singapore and Mr. Marcus Lam, Partner, Assurance from PwC Singapore. 
About 1-Net
1-Net is fast transforming itself into Asia's Data Center of Choice and it is expanding its data center footprints in Asia and Hong Kong. 1-Net North Data Center is also the first Tier III Constructed Facility certified by Uptime Institute in Southeast Asia. Besides being awarded with BCA-IDA Green Mark for New Data Centre (GoldPlus), 1-Net North also complies with Threat and Vulnerability Risk Assessment (TVRA) governed by Monetary Authority of Singapore (MAS).
1-Net manages carrier-neutral internet data centers, along with providing a comprehensive range of integrated services including domestic and international network connectivity, managed services, work area recovery suite, cloud and media delivery services. 1-Net is a Mediacorp enterprise, Mediacorp is Singapore's national broadcaster.
For more information, please visit www.1-net.com.sg.
Media Contacts
Esther Ong
1-Net Singapore
esther@1-net.com.sg
(65) 6709 4368
Karolina Mizgalska
Edelman
karolina.mizgalska@edelman.com
(65) 6733 1110

Share this entry via