1-Net and DataCentre One announce key milestone for new data centre facility to support unprecedented demand in the region
1-Net and DataCentre One announce key milestone for new data centre facility to support unprecedented demand in the region
Singapore, 5 Nov 2014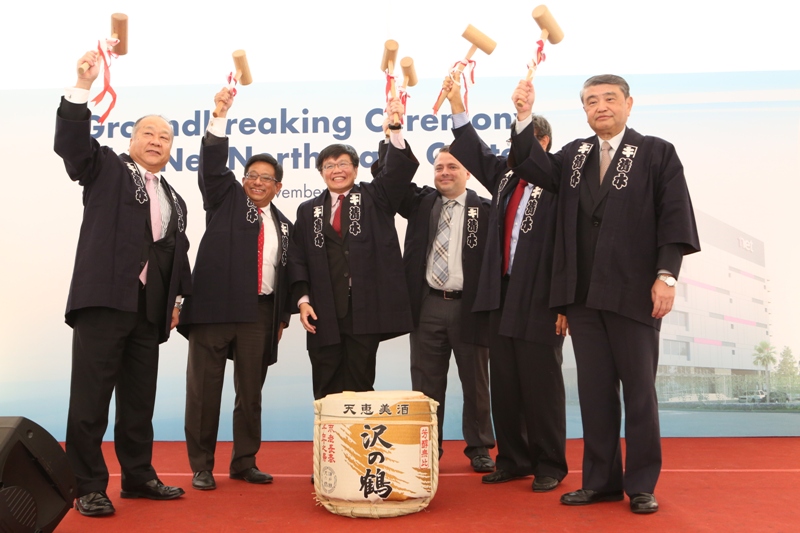 Net and DataCentre One today held a ground breaking ceremony for their new data center located at Marsiling Lane, 1-Net North Data Centre ("1-Net North"). The groundbreaking ceremony today formally kicks off work on the 214,000 square feet facility that is targeted for completion in first quarter of 2016. 1-Net North will be the first data centre focused on providing solutions for the media industry.
Known as 1-Net North Data Centre ("1-Net North"), the new data centre will serve companies and enterprises that require stable, secure infrastructure and high power for digitised content. 1-Net North is a 214,000 square feet facility that is targeted to be completed in the first quarter of 2016.
1-Net North is a "built-to-suit" data centre developed by DataCentre One Pte Ltd, a joint venture between CitySpring Infrastructure Trust and Shimizu Corporation, for long-term lease to 1-Net Singapore.
The Tier III data centre offers co-location, cloud services, and other related services. In addition to these services, 1-Net North offers high-speed, high-reliability network environment between Singapore and other Asian locations.
1-Net North is Singapore's first data centre to be certified with Tier III standards for Tier Certification of Design Documents and Tier Certification of Constructed Facility by Uptime Institute, an independent data center research, education, and consulting organisation.
1-Net North will support both the demand and growth of 1-Net's existing client base, as well as provide a choice for customers who are looking for premium data centre services.
"Media consumers are highly connected and have increasingly sophisticated needs today. They want experiences tailored to their devices, locations and preferences and they want to access content wherever they are, whenever they want, for little or no cost," said Mr Wong Ka Vin, Managing Director, 1-Net Singapore. "1-Net North will help media companies to manage their data more efficiently, create new digital experiences and deliver compelling offerings more quickly to consumers in a rapidly changing, data-driven environment."
Mr Tan Cheong Hin, CitySpring's Chief Investment Officer, said: "The data centre is a milestone in CitySpring's development, being its first greenfield project and adding to CitySpring's presence in the telecoms infrastructure space." Cityspring currently has Basslink Telecoms and CityNet in its telecoms infrastructure portfolio.
Mr Tatsuya Kurosawa, Managing Director, Investment and Development Division of Shimizu Corporation, hopes to apply Shimizu's expertise and knowledge, in the aspect of design, construction and management of premises, that have been accumulated via numerous data centre projects in Japan.
About CitySpring
CitySpring (www.cityspring.com.sg) is the first infrastructure trust registered with the Monetary Authority of Singapore. As a pioneer in a new asset class in Singapore, and with the sponsorship of Temasek Holdings, CitySpring aims to position itself as a leading player in a growing sector and achieve growth through acquisitions. It has been established with the principal objective of investing in infrastructure assets and providing unit-holders with long-term, regular and predictable distributions.
CitySpring (Reuters: CITY.SI, Bloomberg: CITY SP) had been listed on the Main Board of the Singapore Exchange Securities Trading Limited (www.sgx.com) since 12 February 2007.
CitySpring's portfolio comprises 100% of City Gas (including 51% of City-OG Gas), 70% of SingSpring, 100% of Basslink (including 100% of Basslink Telecoms) and 100% of CityNet.
City Gas is the sole producer and retailer of town gas and the sole user of the low-pressured piped town gas network in Singapore.
City-OG Gas Energy Services Pte Ltd ("City-OG Gas") is a business venture between City Gas and Osaka Gas Co., Ltd ("Osaka Gas"). The business venture which sells natural gas to industrial customers commenced operations on 1 August 2013.
SingSpring is the supplier of desalinated water to the Public Utilities Board, Singapore's national water agency.
Basslink owns and operates a 370-km high voltage electricity interconnector between the electricity grids of the States of Tasmania and Victoria in Australia. Basslink Telecoms provides wholesale telecoms services between Hobart, Tasmania and Melbourne, Victoria.
CitySpring Capital was established on 2 October 2012 to issue notes under the Multicurrency Medium Term Note Programme that was established on 11 October 2012.
CityNet is the trustee-manager of NetLink Trust ("NetLink"). Singapore Telecommunications Limited ("SingTel") is the sole unit-holder of NetLink Trust, and retains a 100% economic interest in the business and assets of NetLink Trust. CityNet, in its capacity as trustee-manager of NetLink, owns, installs, operates and maintains the fibre network for Singapore's Next Generation Nationwide Broadband Network.
About Shimizu Corporation
Shimizu Corporation is a leading architectural, civil engineering and general contracting firm offering an integrated, comprehensive planning, design and build solutions for a broad range of construction and engineering projects worldwide. It has annual sales of approximately US$15 billion and has been widely recognised as one of the top 5 contractors in Japan and among the top 20 in the world.

Share this entry via